Although 2020 might feel like a difficult year for many, the used heavy equipment and trucks market has remained strong with its pricing and demand. In auction sales, which pivoted successfully from an on-site model to an on-line business model in a matter of days, the pricing on machines has only dropped by a few percentages. With listings, Mascus has noticed a somewhat longer sales period during 2020, but also only by a small percentage. All in all, the market for used heavy equipment and trucks has managed to remain in strong shape. Here, the support from government and banks in most European countries has been of utmost importance and the key to a positive outcome.
At the beginning of 2021, a breath of optimism emerged in the market. OEM's production lines have restarted and are up to full capacity while everyone is expecting to go back to a normal business pace. Mascus is looking forward to continuing its data analysis going into 2021 and supply these market insights. It is also continuously working on improving valuation support system and capital adequacy services to match and supersede future requirements from  clients.
In this Market Insight report covering the last quarter of 2020, Mascus takes a closer look at the performances of used crawler excavators, wheel loaders, agricultural tractors and combine harvesters on the European market.
Download this pdf report for free and discover the latest trends in the industry.
Mascus is investigating the Volume and Buying Demand Trends on the European used equipment market by analysing data collected since 2019 via these channels:
▸ Mascus – Online listings
▸ Ritchie Bros. – Unreserved onsite auctions
▸ Iron Planet – Weekly online auctions
▸ Marketplace-E – Reserved online marketplace
Here are a just a few interesting findings:
CRAWLER EXCAVATORS
At the beginning of 2020, a small increase in listed items for sale on Mascus was reported, followed by a slight decline in Q2. The trend picked up in Q3 and the volume of objects for sale was at its highest in the final quarter of 2020.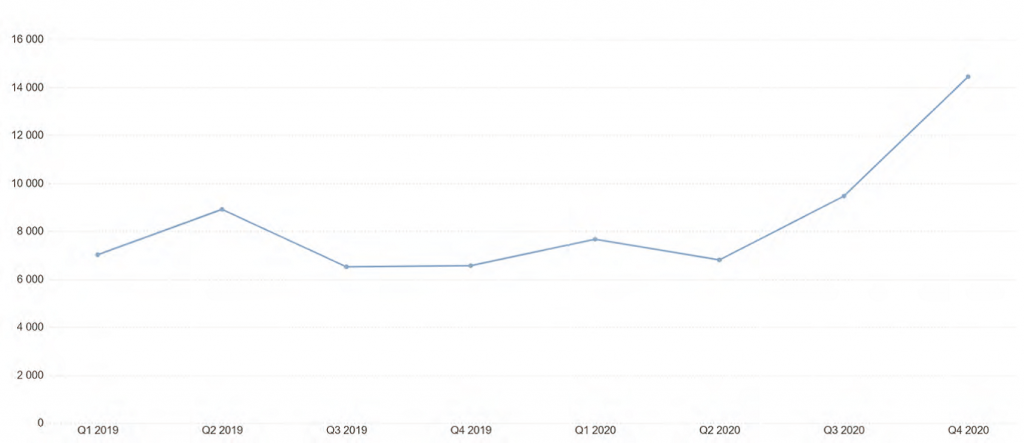 Top 5 most demanded crawler excavator brands and top 5 countries where most buying requests for crawler excavators came from, based on email requests sent via Mascus during the last quarter of 2020: